Securing a qualified, highly-skilled court reporter for depositions or hearings can be a challenge, especially when location and timing issues are at play.
Res Ipsa helps our clients obtain the right court reporter for the job, nationwide and whenever necessary.

---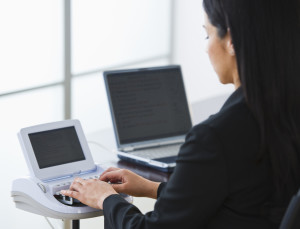 We engage only nationally certified court reporters who have been rigorously screened, to ensure delivery of accurate, high-quality, professional transcripts. Res Ipsa court reporters meet diverse state regulations and policies across the U.S., and our professional reporter network offers numerous certifications, including CSR, RPR, RMR, RDR CLR, CRR and CMRS.
As with our trial technology and video services, Res Ipsa integrates technology seamlessly into our court reporting services. Trained on the best-performing court reporting technologies, our reporters are skilled in the latest software to enhance the quality of their final product and their value in the proceeding itself.
If you need a court reporter and videographer at the same time, you can count on Res Ipsa professionals to coordinate all of the logistics swiftly and accurately, ensuring a superior overall reporting experience.
In addition to supplying professional court reporters and videographers for our clients, Res Ipsa also provides the following related court reporting services:
Conference Rooms
Res Ipsa works with an established network of affiliates nation-wide so our clients can book deposition rooms whenever, wherever they need.
Deposition Transcripts
We understand each case's different needs, so we provide transcripts in any format requested, from condensed to full-text to miniature. We offer 10-day standard business delivery for transcripts as well as expedited delivery options.
Deposition Archiving
We archive every deposition transcript generated for our clients and make them available for a minimum of 3 years.
Real-time Streaming
Res Ipsa court reporters and professional videographers work closely together, using the latest technology to stream both de-position transcripts and video in real time over the Internet to parties on-site or at remote locations. Transcripts and video may be displayed on a variety of devices, including laptops, tablets and smartphones.
Exhibit Scanning
Our court reporters can scan any hard copy exhibit in a number of digital file formats, including PDF, JPEG and TIFF. Visual exhibits are scanned using OCR technology so that they may later be electronically searched or edited efficiently.
Online Repository
Res Ipsa maintains an online repository for transcripts, exhibits, errata sheets, etc. Upon request, our clients have immediate online access to the information at no additional cost.